---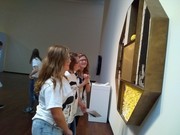 Clarkson art student student Morgan Brabec views an interactive exhibit at the Joslyn.
---
Art Students Take Annual Joslyn Art Trip
When a person sings directly into a piece of art and their tune carries throughout the room, they attain a certain amount of humility. However, with that being said, they also realize that being heard isn't the worst thing in the world either.
This humility and confidence is exactly what artists portray in their work every single day, and on September 26, over 30 of Clarkson and Leigh's high school art students travelled to Omaha to the Joslyn Art Museum to experience the same feeling.
In preparation for the trip, the students learned about an abundance of artists and even designed their own t-shirts based off them. Mrs. Ann Cerv, the Clarkson and Leigh art teacher, taught the students helpful stories and rhymes to help remember the artists' names such as "dancing all Day-gas like Lady Gaga for Edgar Degas.
The students also participated in the yearly scavenger hunt that Mrs. Cerv creates before the visit. This involves little sections of famous paintings that are located throughout the Joslyn Art Museum, and the students compete to see who can find the most pictures and earn the most points.
"It always warms my heart to see the kids wearing their Joslyn shirts that they created in class and worked so hard to finish in time for our field day," Cerv said. "They made a big impact on the museum staff, where the directors and curators not only commented on our fabulous shirts, but took several pictures to put on their webpage as well. Comments were also made about how smart these kids are and how great it is for them to get this art education! I couldn't be prouder of my students!" Mrs. Cerv said.
This year, for something different, the students also visited the Larry Roots Modern Art Midtown, which is filled with pieces from up-and-coming artists.
As junior Kayden Shumacher said, "It was a great opportunity to go and see all of the beautiful work. I'm glad I got to go and glad to have an art teacher who cares so deeply about her students."