---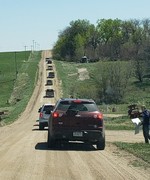 A stream of honking cars passes senior Carson Ahrens' house on what would have been the Class of 2020's graduation day.
---
Leigh Celebrates Seniors with Teacher Parade
Friday, May 8, 2020, was supposed to be a rite of passage for the Class of 2020 LHS seniors. A day they had been working toward for many years, and a day they would remember forever.
Instead, things looked a little different this year, with the traditional graduation date having to be postponed due to the ongoing coronavirus pandemic.
But that didn't stop Leigh Community Schools from trying to do something special to celebrate its seniors on that date. High school and elementary staff members met at 3 pm and began a parade of cars that drove past all the seniors' houses, or in some cases, places of employment.
Whether they were found at their homes with a small gathering of family nearby or found working at Steve's or the mini mart, the seniors were all greeted by a stream of about 20 honking vehicles. Mrs. Karen Hillen, LHS guidance counselor, also gave them a poster for their yard.
The parade was filled with some tears and many smiles from teachers and seniors alike!
The Class of 2020 includes seniors Carson Ahrens, Abbi Brabec, Hannah Dronsett, Taya Gross, Taylor Larson, Payje Rayback, Natalie Reeves, Alexis Schroeder, Reagan Settje, and Morgan Voborny.
A traditional graduation ceremony has been postponed until July 31 at 6 pm at the Leigh High School gym. The Class of 2020 will be the last class to graduate in the current LHS gym.