---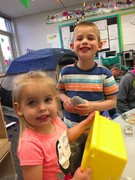 Grant and Allisyn Zabka take part in one of the fun activities
---
"Let's Have S'more Fun in Pre-K!"
Leigh Elementary Hosts Pre-K Round-up
"Let's Have S'more Fun in the Pre-K!" This was the theme as Pre-K classes for the 2017-18 school year gathered for the first annual Pre-Kindergarten Round-up held at Leigh Elementary School on Friday, April 28.
Mrs. Tiffany Cash, the Pre-Kindergarten teacher, has the classroom set up with a campsite, and 14 families came to take part in many fun activities.
Since the theme had been "S'more Fun in Pre-K", Cash gave the kids rulers with cotton balls on them, and they used their creative imagination to roast their marshmallows. They got to play in the tent as well. They also wrote their names on a piece of paper with a white crayon. They then painted over their name with watercolors and watched their names appear on the paper. The kids seemed the most interested in playing with the kitchen set and the block center.
They were eager to talk to Mrs. Cash about all the fun they would be having next year:
"They told their parents how excited they were to come to school next year, "Mrs. Cash said. "Their eyes were wide open and they were excited to have fun. There wasn't a dull face in the classroom."
Mrs. Cash talked to them about the activities they would be doing in the next year, including a painting project.
While the kids were having fun, she gave them a little treat that included a large marshmallow, graham crackers, and a mini Hershey bar to make s'mores.
"Open House was a great experience for the kids to know what it's going to be like with a new teacher and interacting with other children in the classroom," said Mrs. Cash, "It serves as an opportunity for new families to develop a level of comfort, but also excitement for beginning their journey in education. Students are encouraged to explore their new classroom and to visit with their new teacher. This year our students who attended open house were excited to see the classroom and were ready to start school right away! I look forward to seeing them again this coming fall."