---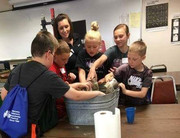 5th graders participate in Groundwater Festival activities.
---
Elementary Grades Take Spring Field Trips
On Tuesday May 9th, the second and third-grade classes at Leigh Elementary School went on their annual field trip to Ashfall Fossil Beds in Royal, Nebraska. There were 37 students who attended.
Their day started off by visiting the Neligh Mill State Historic Site. Then they went to the Royal Grove Trout Rearing Station. Their final stop was Ashfall Fossil Beds.
"The Trout Feeding was fun because whenever you fed the fish, they would splash out of the water at us," third-grader Brett Wemhoff said.
"At Ashfall, we saw many unusual fossils. We also learned a lot from Sandy's speech," said third-grader Liz Hoffman.
"It is nice seeing ancient, old history," Brayden Loseke, also a third-grader, added.
Third-grade teacher Cindy Settje said, "Our field trip to Ashfall, Neligh Mills, and Royal Grove Trout Rearing Station is always a very educational, yet fun experience. Ashfall is the only site of its kind in the entire world, so we are so fortunate that it is in Nebraska, and our students can see it."
The fifth and sixth-grade classes went on their own field trip this same day.
32 students travelled to Grand Island Central Community College's Groundwater Festival. The Nebraska Groundwater Festival provides knowledge to the youth about conserving groundwater use. The two classes learned about the Ogallala Aquifer and the water cycle.
"Our sixth grade participated in many educational sessions, including Household Hazards, Dirty Deeds, Water Cycle, and Wetlands," said Korbee Wendt, a sixth-grader. "My favorite part about the Groundwater Festival was learning about the water cycle, how it works, and doing experiments."