---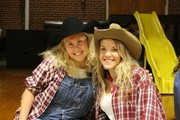 Cowboy Spirit Day Week: Holly Kuhr and Hannah Kasik
---
Entire School Celebrates Homecoming Spirit Week
Another Homecoming Spirit Week took off at the elementary and high school students decorated and dressed up to show their school spirit.
On Monday was Yee Haw day at the high school where students dressed in Western attire. Cort Pokorney and Emily Loseke won best dressed on Monday.
Monday afternoon the high school students got the chance to decorate the halls. The students got to use streamers, balloons, posters, and their creative imaginations to fill the school with Patriot and Cyclone pride.
On Tuesday we had Patriot Cup competitions. Each multi-grade level Patriot Cup team picked a different theme to dress up as. The groups got together and decided on what to do for the competition. The elementary teachers were the judges and picked that the Fischer Bunch, who dressed as grapes was best dressed.
Wednesday was a great day with a great temperature of high 70s for the beach day. Students came dressed ready to go to the beach and had all sorts of accessories. Mrs. Fischer and Logan Becher were voted best dressed.
On Thursday was Class Unity Day. The classes got together and had to decide on the best idea for their class. The juniors were best dressed as Frat Boys.
Friday was the big football game so the students wore all of the red, white and blue that they had. Mackenzie Williams and Morgan Bunner were the winners of red, white and blue day.
After lunch all of the volleyball and football players went down to the elementary for a pep rally that the younger kids held for them. When the players walked in, they had posters and music playing to pump up the players. They did cheers and had a dance off where everybody participated. The Senior players talked to the younger kids and then they ended with a cheer.
The athletes came back to the high school where there was a pep rally for them. They announced the candidates, did some activities, did cheers, and had the volleyball and football teams come talk. At 5:30 students gathered to ride on pickups down to the football field. On the way they did cheers.
After arriving at the football field the students waited until the football boys came for the game. They gave the students high fives and cheered them on, then waited until the game started.
After the Patriot football team defeated Cedar Bluffs, Holly Kuhr and Logan Becher were crowned King and Queen. The Homecoming dance was then held on Saturday in Leigh.