---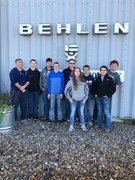 Several students from Leigh were able to tour three different manufacturing facilities in Columbus as part of National Manufacturing Day. (L to R): Kevin Becerril, Calvin Wemhoff, Jacob Eisenmann, Isaac Rodenburg, Orion Hunt, Lexi Schroeder, Logan Schroeder, Kanyon Held, Darian Ober-Brown.
---
Leigh Students Participate in National Manufacturing Day
On Thursday, October 18, Leigh High School students got the opportunity to participate in National Manufacturing Day in Columbus, Nebraska at Central Community College. The main reason for putting on this Manufacturing Day is to lure students who are interested in a manufacturing job to learn more about this industry. This could help students decide what kind of job they want in the manufacturing field and get to see what jobs are offered.
There were 10 other schools that attended and our 9 students added to the total of 150 students. The 10 schools that attended were Humphrey, Leigh, Clarkson, Howells-Dodge, Columbus, Lakeview, Scotus Central Catholic, East Butler, David City, and Wisner-Pilger.
There were 9 students that attended, including freshmen Darion Ober-Brown, Logan Schroeder Kanyon Held, Jacob Eisenmann, Calvin Wemhoff, Kevin Becerril, and Isaac Rodenburg; sophomore, Orion Hunt; and junior, Lexi Schroeder.
Leigh students visited Columbus Wastewater Treatment facility, Behlen Manufacturing, and Sidump'r Trailer. There were 7 other businesses and organizations that participated as well
Students were asked to take part in a scavenger hunt. They were to take pictures of the businesses and answer questions on an iPad. Along the way, they were asked to do small tasks as in "Demonstrate your coolest talent," "Spell T-E-A-M using members of your team," and many other activities to partake in team bonding. At the end of the day, all of teams came together to see who won the competition. Howells-Dodge won first place.
Mrs. Brandy Held was the sponsor for this trip.
"Manufacturing Day was a great way to expose students from Leigh to various careers in industry that they aren't always aware of," said Held.
Leigh freshman, Logan Schroeder, said, "I think it was a very fun and a great experience of some manufacturing jobs in a nearby town. I thought Behlen's was a really cool facility that seems like a good place to work."