---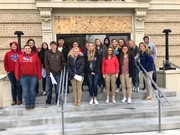 Leigh seniors, as well as some Clarkson juniors attended County Government Day at the Colfax County Courthouse in Schuyler. (L to R): Joy Mapel, Sawyer Kappel, Holly Kuhr, Holly Kuhr, Meranda Kudrna, Mackenzie Williams, Kaegan Held; (Back Row): Kobe Indra, Kim Stodola, Bianca Aguirre, Raoul Heilmann, Dillan Knapp, Quintessence Indra, Ashlynn Novotny, Cort Pokorney, Libby Crecco, Brittney Urbanek, Cassie Brabec, Hannah Kasik, Isaak Wiese.
---
Seniors Attend County Government Day
The November 6 general elections boke voter turnout records across the country. But after all of the voting ends and candidates are elected into office, the average American does not think much about the workings of their government.
This was not the case for the seniors at Leigh High School after the election.
Even though most of them couldn't vote, they got the opportunity to attend County Government Day on November 19th in Schuyler at the Colfax County Courthouse. They learned about how our government works as well as the different offices within our government. They also had the opportunity to watch a mock trial.
Before attending County Government Day, all seniors also had to take part in mock elections. They all campaigned for an office in the courthouse through school in government class. Each student picked an office that they wanted to run for, and they had to campaign against each other to get the office. After doing this, then the Seniors headed to County Government Day, where they were able to learn more about their particular office.
Senior Meranda Kudrna said, "County Government day was very informative, learning about all of the different offices. It was cool touring the courthouse building in Schuyler and we all had a good time."
Thank you to social studies teacher Mr. Bachman for chaperoning the seniors on this great experience!