---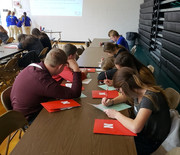 Leigh sophomores fill out a college questionnaire at the "Connect the Dots" career event at Central Community College.
---
Sophomores Explore Career Opportunities
The sophomores at Leigh High School have been taking major steps to further their occupational thoughts after graduating high school. The 13 of them have been traveling around the area to learn more about prospective careers. They participated in a career "Connecting the Dots" event at CCC, and they all job-shadowed at businesses in the area.
They drove to Central Community College in Columbus for Connecting the Dots on Thursday, December 6. They spent the day there learning about careers that they are interested in and in break-out sessions. Leigh was one of six schools that attended the event. The others were Clarkson, Humphrey, Howells-Dodge, Humphrey St Francis, and Columbus Scotus.
The first activity that they took part in was a simulation for after high school. The students broke into teams with people from the same career cluster and were given a scenario. There were many life-scenarios ranging from only having a GED to being accepted into a four-year college. They explored the options involved with each. They met with representatives from CCC and UNL. They were then able to talk to employers from each career cluster.
After lunch the group set out to break out sessions. In the first session, they learned about their best qualities and how these personality traits would impact them in their future careers. They then were given a tour of the campus and learned about the programs offered there. The last activity that they were involved in included tips on how to write a resume and what a good resume looked like.
Mrs. Megan Hillen, who teaches the Exploratory Careers class at the high school said, "The sophomores have had a great opportunity to learn more about careers that interest them over the past week. The Connecting the Dots workshop, put on by Nebraska Extension, allowed students to meet with area professionals and college representatives in a live simulation. It was a great way for them to practice networking and employability skills."
Orion Hunt said, "The Connecting The Dots program that CCC held was a very educational trip for my class and I. We were all able to learn more about our future career interests and college interests. We all got to meet some experts within each career cluster. One that I remember the most is that I got to meet is the Sheriff of Platte County. All of the experts we met gave us insight of what to expect and how we can prepare for our possible future careers."
The following week, the sophomores spent the morning job-shadowing at various businesses to see what a typical day looks like. All of the students went to different occupations and learned about that career. A van was driven to Norfolk with five students and another to Columbus with eight students.
The sophomores went to the following places for three hours for their job shadows:
Jose Aguirre--Radio Shack, Riana Grotelueschen--Norfolk Senior High School; Cassidy Hoffman--Hemmer, Langholz & Finley PC; Alicia Holmberg-- West Park Elementary School; Orion Hunt-- Columbus Police department Dispatch; Alissa Kasik-- Columbus Community Hospital Radiology Department; Layne Krutz-- Nebraska Game and Parks; Emily Loseke-- Marathon Press; Rylee Olson-- Northeast Nebraska Imaging; Madisyn Pelan-- Psychiatric Services Raith Regional Hospital ; Kyleigh Rayback-- Columbus Community Hospital OB-GYN Department; Kayden Schumacher--Linn Chiropractic; Trevor Zulkoski-- Nebraska Game and Parks;
Sophomore Kyleigh Rayback said, "Job shadowing was eye-opening and slightly overwhelming, I wish we would have had more time to experience the whole shebang. I feel like everyone should have the opportunity to have this experience. It was different than I expected, but I am still very interested."
Mrs. Megan Hillen said, "Overall, our students had great experiences job shadowing - some students were able to confirm a career interest while others were able to determine that their choice might not be the best fit for them."