---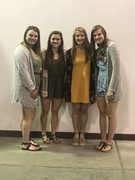 2019 Patriot Youth Council Scholarship Recipients (L to R): Sara McEvoy, Kaegan Held, Halee Steffensmeier, Paige Moore.
---
Patriot Sports Banquet Held at Colfax County Fairgrounds
Student-athletes, coaches, parents, relatives, and community members gathered at the Colfax County Fairgrounds in Leigh on Thursday, May 2 to celebrate another fantastic year of Patriot athletics.
The night began at 6:30 pm with dinner of pork and beef tacos or nachos, rice, beans, and cookies catered by Norma's Kitchen. The annual event was sponsored by the Booster Club.
An introduction was given by Justine Fischer. This was followed with a year-long highlight video.
Next on the program, each of the head coaches gave season recaps and senior tributes, and handed out awards to individual athletes: Jim Clarkson for football, Becky Schneider for volleyball, Adam Indra for softball, Tyler Reeves for wrestling, Jeff Bachman for boys' basketball, Matt Murren for girls' basketball, Briana Wietfeld for girls' track, Lee Schneider for boys' track, Jay Knaak for golf, and Erika Rupprecht for dance team.
Following the coaches' speeches, two scholarships were presented. The Patriot Youth Council presented scholarships to Kaegan Held, Paige Moore, Halee Steffensmeier, and Sara McEvoy.
The Patriot Booster Club choose one boy and one girl from Leigh and Clarkson for their scholarships. For Clarkson, Sara McEvoy was chosen as the female recipient. Halee Steffensmeier was alternate. There were no male applicants from Clarkson.
For Leigh, Logan Becher was selected as the male recipient.
"I'm very honored to be chosen as the recipient of the Booster Club scholarship," Becher said. "I would like to thank the Booster Club for the financial aid and for all they do to support all Patriot activities every year.
Kaegan Held was selected as the female recipient of the Booster Club scholarship. Hannah Kasik was chosen as alternate.
Held said, "I want to thank both the Patriot Booster Club and the Patriot Youth Council for choosing me as the recipient of both scholarships. I feel very honored to be recognized, knowing that community members and organization leaders recognize my hard work in extracurricular activities and involvement in youth activities. This money will help me attain my career goals."
The Booster Club would like to extend special thanks to Sara McEvoy and Noah Holoubek for compiling the highlight video, Kaegan Held and Paige Moore for creating the placemats, Sue Folken for creating the programs, and Chuck and Sue Folken for use of the sound system.