---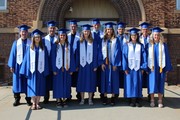 Leigh High School Graduating Class of 2019 (Front Row, L to R): Mackenzie Wililams, Kaegan Held, Meranda Kudrna, Hannah Kasik, Bianca Aguirre, Holly Kuhr; (Back Row): Cameron Miller, Raoul Heilmann, Alex Fischer, Daniel Beller, Cort Pokorney, Logan Becher.
---
Class of 2019 Celebrates Commencement
"What feels like the end is often the beginning." This quote will stand true for the Leigh High School Class of 2019.
12 individuals will walk down the aisle for one last time as the bittersweet moment of commencement is held.
The class of 2019 has chosen their flower to be the chrysanthemum. The class colors are turquoise, black, and silver. Lastly the class song is "Five more minutes", by Scotty McCreery. Holly Kuhr was named Salutatorian and Kaegan Held with Valedictorian.
The ceremony started at 6 pm and visitors were welcomed by the junior ushers, Reagan Settje, Natalie Reeves, Abbi Brabec, and Payje Rayback. It began with a class highlight and memory video. The seniors than walked down the aisle to "Pomp and Circumstance" performed by the Leigh Clarkson band.
Class Salutatorian Holly Kuhr said a welcome speech and then awards and scholarships were presented.
Next was the presentation of the flowers. Cindy Settje played "Threads of Love" while they did so.
Kaegan held, Valedictorian, gave her speech and then it was the time everyone had been waiting for. The diplomas were awarded by Stephanie Petersen, Superintendent, and Kamin Held, Board of Education President.
After the seniors all received their diplomas, the time had come. Each moved their tassel to the opposite side and they walked out of the gym, feeling the moment and jubilation of being a Leigh High School graduate.
The scholarships received by each of the graduates are as follow:
Bianca Aguirre: Susan T. Buffett, Nick Wieseler Memorial, Vicki Wietfeld Memorial, John & Michele Hollatz, McIntosh Family Endowed Scholarship to Northeast Community College
Alternate to: Jan Fuhr Memorial
Logan Becher : Husker Traditions Scholar to UNL, MSEP Enhancement Scholarship to Kansas State University, American Legion, Leigh Alumni Association, Jay Blessen Memorial, Patriot Booster Club, Lavern Went Memorial, Jim and Helen Evans Memorial, Cada/Krupka Memorial, American Red Cross/FCCLA
Alternate to: Citizen's State Bank, Leigh Volunteer Fire Dept., John & Michele Hollatz, Mildred Hake/Legion Auxiliary, Leigh Education Association
Daniel Beller: Leigh Rescue Unit
Alternate to: Cooperative Supply, Rick Charipar Memorial
Kaegan Held: Citizen's State Bank Leigh, Community Club, Leigh Volunteer Fire Dept., Patriot Booster Club, Patriot Youth, Cooperative Supply, Sons of the American Legion, FEVB Business Scholarship, Leonard & Elsie Engel Memorial, Wade Wendt Memorial, Taylor Went FFA Memorial, Nebraska Energy Federal Credit Union, KTIC Russ Herman Memorial, Aaron Cech Memorial, Briar Cliff Academic Achievement Scholarship, Briar Cliff Women's Basketball Scholarship, Hastings Crimson Scholarship, Hastings Women's Basketball Scholarship, Hastings T-L Irrigation/Thom Business Scholarship, Doane Presidential Scholarship, Doane Women's Basketball Scholarship, Wesleyan President's Scholarship, Concordia Regents Scholarship, Lutheran Heritage Award
Alternate to: American Legion, Leigh Alumni Association, Lyle Hamernik Memorial, Paul Hollatz Memorial
Hannah Kasik: Sara Reichmuth Memorial, Dean's Scholarship to Northeast Community College
Alternate to: Leigh Rescue Unit, Nick Wieseler Memorial, Terri Wietfeld Memorial, Patriot Booster Club, Lisa Kuta Settje Memorial, FEVB Business
Meranda Kudrna: Mildred Hake/Legion Auxiliary, ARC of Colfax County, Leigh Education Association, Pro Am Gold Tournament Scholarship to Central Community College
Alternate to: Jay Blessen Memorial
Holly Kuhr: Leigh Alumni Association, Citizen's State Bank, Jan Fuhr Memorial, Terri Wietfeld Memorial, John & Michele Hollatz, Lisa Kuta Settje Memorial, Lyle Hamernik Memorial, Paul Hollatz Memorial, Whitetail, Wayne State College Rural Health Opportunities Program Scholarship- Radiography, Columbus Community Hospital Dwayne Willers Memorial, Wade Wendt Memorial
Alternate to: Leigh Community Club, Vickie Wietfeld Memorial, Lavern Went Memorial, Sons of the American Legion, Aaron Cech Memorial
Cameron Miller: Nebraska Strong Scholarship to Nebraska Wesleyan
Cort Pokorney: Rick Charipar Memorial, Lost Island, Helena Home Grown, Wade Wendt Memorial, Lower Elkhorn Natural Resources District, Aaron Cech Memorial
Alternate to: Leigh Alumni Association, John & Michele Hollatz, Northeast Community College Board of Governors