---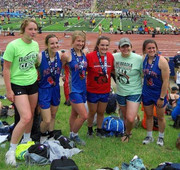 2019 Girls' State Track Qualifiers (L to R): Cassie Brabec (alternate), Emily Loseke, Halee Steffensmeier, McKenna Stodola, Sara McEvoy, Kaegan Held.
---
Two Events Place at State Track!
The Clarkson-Leigh girls' track team wrapped up a stellar season at the State Track Meet at Omaha Burke Stadium on Friday and Saturday, May 17-18, 2019.
After taking Runner-Up as a team at Districts, the girls sent 5 girls to state in 6 events in Class C. Unfortunately, the boys did not qualify anyone for state this year.
Two of those girls' events earned a medal! The girls' 4x100M Relay of Kaegan Held, Halee Steffensmeier, Emily Loseke, and McKenna Stodola finished in 6th place out of 16 teams with a time of 50.51 seconds. Sophomore Emily Loseke also qualified for finals in the 100M Dash, where she finished 7th with a time of 12.9 seconds.
Senior Halee Steffensmeier qualified in the 400M Dash, senior Kaegan Held qualified in the 100M Hurdles, and senior Sara McEvoy qualified in the Discus, but they did not place. Emily Loseke also qualified in the 200M Dash but did not place.
Lincoln Lutheran and Chase County were the champion and runner-up respectively in Girls Class C.
Head track coach, Bri Wietfeld had this to say about State and the season as a whole:
"This year's state track meet was another exciting one. I was so proud of our girls and how far they came this season and how it showed at state. Our 4x1 took on a new challenge of working with a whole new workout program this season called "Feed the Cats'. I think it shook them up a bit realizing their workouts would be quicker and shorter. They came into this season wanting to enhance their sprinting ability to rock that 4x1, so telling them at the end of their workouts they were done already left them wanted to do more. We had to tell them to trust the program, and they did. They jumped on board and work their tails off this season, repetitively breaking the Patriot 4x1 relay record. To top it all off their final time running it, which was at state, was their best time of the season.
"I enjoyed their journey this year as this team is one close group. In an addition to the relay they each improved on their individual events this year as well. Halee Steffensmeier broke the Patriot 400M record; Emily Loseke qualified in the 100 and 200 at state and broke both those records; and Kaegan qualified in the 100 Hurdles and broke that record. Freshman McKenna Stodola left this season with great outlook to next season having had state experience. Sara McEvoy another state qualifier had also had a successful track season. Her senior year left her with a new Patriot record in the discus. She worked aggressively this season wanted that spot at state and earned it.
"As a coach, it is truly the best reward seeing your athletes perform at the Nebraska State Track and Field Meet at Burke. I think these athletes see what an honor it is to be there and how rewarding that moment you enter those gates feels. It gives them the drive for the next season. Overall, our weekend down at state was a success along with our season!"