---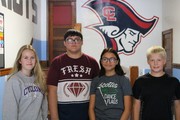 New Students at Leigh High School (L to R): Hannah Dronsett, Andrew Rivera, Deandrea Rivera, Carter Brabec.
---
New Faces to Leigh High School
The start of a new school year calls for new classes, same teachers, and some old friends. On top of it all, every year, we have our fair share of new students that we are happy to welcome into our community.
This year we have four new faces: Hannah Dronsett, Carter Brabec, Deandrea Rivera, and Andrew Rivera.
Hannah Elisabeth Dronsett is a foreign exchange student from Norway this year. She is staying with Ryan and Kristin Mullenhoff. She is a senior this year.
Hannah's parents are Gro Elisabeth and Henrik. She went to Nesodden videregaende skole, which was her high school in Norway. She is living in Leigh this year, but the name of where she lives in Norway is Hellvik, Nesodden.
In her free time, Hannah enjoys hanging out with friends. In Norway, she played handball, and she is playing softball while she is here.
Carter Nathan Brabec is a seventh grader this year. His parents are Andy and April Brabec. He lives east of Madison.
Carter previously went to school at St. Leonard's Catholic School in Madison.
Some of his hobbies include watching football and playing on his x-box. He is participating in football and basketball this year.
Deandrea Jasmine Rivera is a freshman, and her younger brother Andrew Rivera is an eighth grader. Their parents are Nicole Sandoval and Adrian Campose.
Deandrea and Andrew went to Columbus Middle School before coming to Leigh this year. They live in Leigh.
Deandrea enjoys painting, running, gardening, and reading. She has participated in swimming, track, cross country, soccer, and basketball while at Columbus.
Andrew enjoys playing games in his free time and is excited to participate in football this year.
Welcome to all our new classmates!