---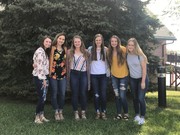 LHS Senior Yearbook Staff Members (L to R): Taylor Larson, Taya Gross, Natalie Reeves, Reagan Settje, Payje Rayback, Hannah Dronsett.
---
Senior Yearbook Members Attend Educational Conference
Theme, photography, text, fonts, and of course the hard work and dedication are all necessities of a good year book. Yearbook Advisor, Mrs. Michelle Held, took the six senior yearbook members to a conference at Mahoney State Park on Wednesday, September 18.
The six senior yearbook members consisted of Payje Rayback, Taya Gross, Taylor Larson, Reagan Settje, Hannah Dronsett, and Natalie Reeves.
The day started out with a quick introduction of all the schools there. There were over 300 students who attended. Some of the schools brought extra yearbooks from last year to trade with schools, and we did the same as well.
The first session the yearbook members chose to attend was a session about theme. With a theme not yet chosen for their yearbook, they figured this session would be the appropriate choice to maybe gather some ideas!
The last session before lunch was a big group session about some of the basics of yearbook. The yearbook advisor from Elkhorn was the guest speaker for the session. She shared some worthy pieces of advice the Leigh yearbook staff hopes to use in the future.
The students were served lunch and then their day was cut short so they could return back to school before school got out.
Yearbook advisor, Mrs. Michelle Held, said, "This year's conference was interesting with a new location and over 300 participants. I felt the students really got a lot of out of the session on theme, generating some great ideas for us to focus on."
It was a great learning experience for the members to have and they are excited to start working on the 2019-20 yearbook!