---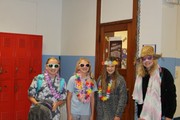 Junior high girls Brianne Kuhr, Izzy Hollatz, Ella Urban, and Macy Clausen donned tropical attire for "Beach Day."
---
Homecoming Week Makes a Splash
"We Have Spirit! How About You?"
This year's homecoming week teetered on the edge of reality and fantasy. Many students and teachers got into the spirit and dressed to impress, and on Friday, before the big football game, people from both schools came together for the 2019 Clarkson-Leigh pep rally.
Starting on September 31st, Clarkson and Leigh blended into their surroundings and became camouflage or cowboy.
On October 1st many tried to save the turtles and dressed as vsco girls. This included everyone wearing go green shirts, oversized t-shirts, short shorts, sunglasses, or croc shoes. And while most would agree we didn't meet the Instagram standards, we were comfy nonetheless and still put on a good show.
Afterwards on Wednesday, October 2nd both schools supported class unity day. At Leigh there was a diversity of themes, including M&M's, Husker fans, and biker gangs. The teachers even joined in the fun and supported their college teams with their old jerseys or t-shirts.
On October 3rd, everyone disregarded the cold and suited up for a balmy, beach day of 50 degrees. And while some students brought sunglasses and snorkels, a selected few wore swimsuits over their everyday clothes.
Finally on Friday, October 4th, everyone dressed to support the Patriots in red, white, and blue colors. Also on this day, Leigh hosted the first ever combined pep rally with Clarkson. This began with quick, enthusiastic speeches from the softball, volleyball, girls' golf, and football teams.
The football team, with the help of the Clarkson-Leigh dance team, even displayed their dance moves for all to see. This included cartwheels, kick lines, and even the worm in one case.
Also as a finale to homecoming week, the candidates for king and queen competed in a game of "makeup" in both a decoration and impromptu sense. After the candidates partnered up, the first task was to apply makeup to their partners with no assistance from the girls. Afterwards, they had to think of a short introduction to their newly decorated teammate, such as "Greta who is known to sleep with her stuffed cats."
Overall, it was a busy week at Clarkson and Leigh with our spirit week and pep rally. The week culminated in a football win, the crowning of the Homecoming king and queen, and a homecoming dance.