---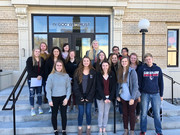 The government classes from Leigh and Clarkson recently participated in County Government Day at the Colfax County Courthouse in Schuyler.
---
Seniors Attend County Government Day
On Monday, November 25, the Leigh senior government class had an awesome opportunity to learn about local government. They traveled to Schuyler and toured the Colfax County courthouse as a part of the annual County Government Day sponsored by area American Legion posts. Leigh was one of four schools in the county to participate, in addition to Howells-Dodge, Clarkson, Schuyler.
Prior to going to the courthouse, Leigh students held mock elections in the school to see which job areas the students would shadow at the event. Seniors had to put up posters around the school and had to campaign to different classes.
Senior Carson Ahrens said, "It was a good experience for the seniors to learn more about what happens in our county government."
The students all enjoyed seeing what happens in our local government, and they were treated to lunch by the Legion. They had the opportunity to see the district and county courts. They even were able to view the old holding cells in the courthouse. In all, it was a great day.