---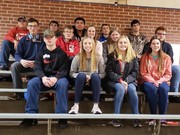 Leigh High School Sophomore Class (Front Row, L to R): Calvin Wemhoff, Makenna Held, Natalie Brabec, Cortlynn Cadwallader; (Middle Row): Aiden Miller, Isaac Rodenburg, Kennedy Settje, Justine Thompson, Darian Ober-Brown; (Back Row): Audie Tejkl, Kanyon Held, Kevin Becerril, Logan Schroeder, Jacob Eisenmann.
---
Leigh Sophomores Focus on Career Prep
In December, Class Job Shadows and Attends "Connect the Dots"
No one ever knows exactly what their future will hold. But for Leigh High School sophomores, the month of December was filled with trying to gain a bit of a glimpse into their future careers.
First, on Friday, December 6, the sophomores at Leigh had the opportunity to job shadow in a career field they were interested in to give them a sneak peek on what their future career might look like.
Half the sophomores traveled to Norfolk and half to Columbus. The Norfolk group included Kevin Becerril, who went to the juvenile detention center in Madison and talked with the chief of police. Isaac Rodenburg and Natalie Brabec went to Farm Credit Services of America. Madison Noonan shadowed a nurse practitioner at Faith Regional Health Services. Justine Thompson shadowed a nurse in the ICU, also at Faith Regional. Aiden Miller went to a halfway house, and Audie Tejkl went to Dinkel Implement.
The Columbus group included Cortlynn Cadwallader, who went to Little Messengers Daycare. Jacob Eisemann went to Klug's feedlot, Kanyon Held visited BD, Makenna Held shadowed at Pinnacle Bank, and Logan Schroeder visited Ernst Auto. Kennedy Settje went to Columbus Physical Therapy, Darian Ober-Brown shadowed at Vishay, and Calvin Wemhoff went to a highway maintenance yard in Platte Center. Zane Willams stayed in Leigh and had the opportunity to shadow Hausmann Construction at the new high school site.
"It was a really good experience and I'm glad we got the opportunity to go," Justine Thompson said. "It was cool to see what our potential career might be and have the chance to shadow someone in that career field. It helped me grasp a better idea of what I want to do for my future and gave me more ideas about what to do for college."
Careers class teacher, Mrs. Megan Hillen said, "The sophomores are so fortunate to have this opportunity so early on in their educational careers. Each of them had a great experience and they will continue to explore their career options."
Next, on December 12, the sophomores went to Central Community College for "Connect the Dots," an event at Central Community College that gave them the chance to learn more about their future careers and gave them some more pointers about their future jobs.
They started the morning off in the first session which was a "simulator." They were given cards with different scenarios and talked to representatives from a 2-year college, 4-year college, and the military to figure out how they could accomplish their job.
After lunch, they attended sessions about résumés and their individual skills, and had the opportunity to meet with professionals in various areas of business. Afterwards, they had the chance to tour part of the college and watch a play. They learned about the programs CCC offered, such as theatre, band, and choir.
Sophomore Aiden Miller said, "I believe Connect the Dots was a good experience for everyone. It was helpful for me to understand what path I would be going down and I'm sure it was helpful to the other students as well."
"Connecting the Dots was another great opportunity for our sophomores," Mrs. Hillen said. "Networking with business professionals was the highlight of the day."