---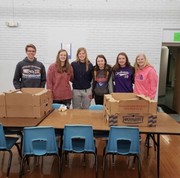 FCCLA members serve donuts on "Donut Day" last Wednesday. (L to R): Logan Becher, Reagan Settje, Cassidy Hoffman, Taylor Larson, Payje Rayback, Abbi Brabec.
---
FCCLA Week Celebrated in Leigh and Clarkson
The FCCLA members and advisors across the country celebrated their organization during FCCLA Week on February 11-15. At Leigh and Clarkson schools, the week was filled with fun activities. The FCCLA officers decided on different events for each day of the week that the whole student body participated in.
"FCCLA Week is a week where we get to show the school what our chapter is all about," Chapter Secretary Reagan Settje said. "Hopefully all students learned a little bit more about FCCLA throughout the week."
To start off the week, both Clarkson and Leigh schools had an FCCLA logo search. The FCCLA logos were taped in all different areas of the school. Some were hidden in harder spots than others. Whoever found them could report them to the FCS room to earn a prize.
Tuesday, it was Trivia Day. The whole school had the opportunity to try to answer 10 questions correctly about FCCLA. Students rushed to try to figure out all the answers. The people who guessed them correctly had to tell FCCLA Advisor Mrs. Megan Hillen all the answers. If he or she got them all correct, they earned a prize.
Donut Day was also a very popular day. On Wednesday, people came through the door in the morning before school eager to enjoy a Clarkson Bakery a donut or two.
Another thing going on Wednesday was Family and Consumer Sciences Educator Day. Because of this day, we celebrated Leigh-Clarkson's FCCLA advisor, Mrs. Megan Hillen.
To end off FCCLA week on a strong note, all the FCCLA members wore red on Friday in support of their organization.
FCCLA Week was a fun-filled week, while students and teachers stilled learned different facts about FCCLA. The Leigh-Clarkson FCCLA chapter looks forward to continuing their year down at the State Leadership Conference in April.
FCCLA Advisor Megan Hillen said, "We had a great week celebrating our organization. Thanks to the chapter officers and our awesome members for making the week a success!"