---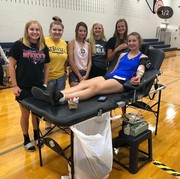 Senior FCCLA Secretary Payje Rayback gives blood for the first time at a summer blood drive hosted by FCCLA. She is surrounded by fellow FCCLA members (L to R) Natalie Brabec, Alicia Holmberg, Kyleigh Rayback, Abbi Brabec, and Reagan Settje.
---
Clarkson-Leigh FCCLA Hosts Summer Blood Drives
The Leigh Clarkson FCCLA chapter is not only busy during the school year, but also in the summer! This summer the FCCLA chapter hosted two blood drives, one on May 28th and the second on August 6th.
On May 28th there was a great turnout for the blood drive with 44 people donating. Three of those donations were from first time donors: Bailey Lemburg, Taylor Larson, and Alicia Holmberg. There were 10 power red donors. There were 34 whole blood donations as well. Overall there was 53 units of blood collected.
Leigh-Clarkson FCCLA advisor, Megan Hillen said, "The Leigh-Clarkson FCCLA chapter would like to thank all the donors that attended our summer blood drives. It is a very busy time of year and we appreciate your willingness to make blood donations a priority. We also need to thank JAMM for the pizza donation at our May blood drive - the donors appreciated the unexpected treat."
Vice President, Taylor Larsen said, "With FCCLA running the blood drives during the summer, it has been a great opportunity for members and officers to help the community out while they are helping save lives."
The second blood drive of the summer was hosted on August 6th from 1-7 in the afternoon. There was a total of 32 units collected. Junior Madisyn Pelan was a first time donor.
There were 10 power red donors including Sheryl Johnson, Jay Powell, Tim Wietfeld, Robin Pokorney, and Laura Bahns.
There were 29 whole blood donors. Those donors include: Sherri Maliha, Tiffany Cash, Mark Hoessel, Glen Hake, Pam Hamernik, Patti Holmberg, Carolyn Olson, Brian Maliha, Anson Korte Roger Bruhn, Michelle Held, Heather Kasik, Kim Loseke, Richard Tomasek, Janet Eisenmann, Bailey Lemburg, Rylee Olson, Mary Stodola, Tiffany Rayback, Madisyn Pelan, Natalie Reeves, Donald Hoessel, MaryAnn McMullin, Sharon Schroeder, Maureen Machacek, Dave Hollatz, Brody Boyd, Darrell Bahns, and Payje Rayback.