---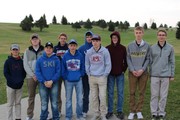 2019 Patriot Golf Team: Gavin Novotny, Garrett Sayers, Kanyon Held, Logan Becher, Logan Schroeder, Jacob Eisenmann, Lance Paprocki, Isaac Rodenburg, Jarred Novotny, Noah Holoubek.
---
Golf Team Finishes 6th at Districts
The Patriot golf season has been a year of rebuilding filled with great improvement from all members. With a team made up of just one senior, one sophomore and seven freshmen, a lot of experience was gained.
This year's varsity was comprised of Logan Becher, Garrett Sayers, Gavin Novotny, Jarred Novotny, and Isaac Rodenburg. Logan Becher was low scorer for the team at most of the meets. Throughout the season, Becher medalled at three tournaments, and Gavin Novotny medalled at two.
At the Conference meet, the team finished in 10th place out of 14. Becher finished in 20th place.
The district meet was held at Club 91 in Leigh where 13 different teams competed to go to state. The Patriots competed very well but fell short of making it to state. Overall as a team the Patriots placed 6th, finishing with a score of 414.
Individually, Logan Becher placed the highest, placing 16th with a 97 on 18 holes.Jordan McBride from Burwell won the tournament golfing an 81.
The top three teams at districts were Burwell, Archbishop Bergan, and Fullerton. These three teams advanced to State.
When asked about how the year went coach Knaak said, "The year was kind of how I expected it to be with new players. I was a little disappointed in our play at districts especially with it being our own course, our score should have been better. Hopefully the young players will get out on the course this summer so they can get better for next year. I also look forward to adding some more new players next year and continuing to build the program."