---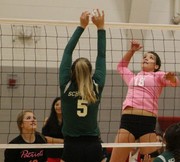 Caption: Senior Hannah Kasik earns a kill against a Warrior defender as Halee Steffensmeier looks on.
---
Patriots Clash With Warriors
The Schuyler Warriors traveled to Clarkson to take on the Clarkson-Leigh Patriots on all levels on September 27. C, JV, and Varsity all played solid games, and the night ended in a sweep of the Warriors.
C team came out ready to play and never settled. They played a complete game throughout. Sophomore, Madison Pelan led the team with 7 ace serves, which was a big help. It resulted in a score of 25-12 for the first set and 25-10 for the second.
The second match of the night was played by the JV team. Although there were some problems in the game, the Patriots fought through them and played a clean game.
Sophomore, Kayden Schumacher said, "We came out ready to play, and we played our game the entire time."
The final score to the JV matchup was 25-15 for the first set, followed by 25-7 for the second. Sophomore, Kayden Schumacher led the team with 4 kills, 4 digs, and 6 aces.
Varsity played the last game of the night. They also played a very clean, error-free game. The Patriots took Schuyler in three sets with sophomore, Cassidy Hoffman leading the team with 10 kills. Junior, Ashlynn Novotny and Senior, Hannah Kasik were close behind with 8 kills apiece.
The teams competed well it all 3 sets, but the Patriots won 25-10, 25-10, and 25-18. Senior, Kaegan Held said, "It was nice to finally play at home again. We played well and executed what we needed to win the game. We're excited for our home tournament, and all our final games to end out the season."